Construction of the South pavilion [towards FMA]
Construction remains on track with handover scheduled for September 2022.
The ground floor is an open multi use space of circa 65sqm with an accessible toilet and small pantry. The first floor, accessed by a staircase at the south end and a platform lift at the north end features 5 individual units suitable for a wide range of business and start up opportunities.
Discussions with potential tenants are progressing well and we look forward to sharing further details of how all the spaces will be used and the opening of the pavilion over the coming months…watch this space!
Space on both floors will be available to hire or book by the community, local groups, organisations, and individuals. This will take the form of small workspaces, hot desks, and meeting space along with the larger flexible ground floor space.
Any enquiries about the future use of this space should be directed to Gayle Skelly on marketing@eyemouth-harbour.co.uk
North end of the site [opposite Giacopazzi]
This area of the site will be temporarily opened for the summer, and we are looking forward to revealing the temporary 'sea garden' installation that project architects Galmstrup has been working on with Eyemouth High School.
The installation is scheduled on site Mon 20th June and will be in place until the Autumn.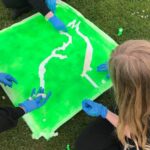 The collaboration between Eyemouth High School S1 & S2 Art enrichment pupils has been with support from Eyemouth Rotary, Eyemouth Enhancement Group and Eyemouth Hippodrome.
Pupils have designed and decorated a series of planters as part of their art enrichment class which will be located on site into Autumn 2022. The trees and plants will then be reused in the general landscaping of the waterfront development.
Phase 2: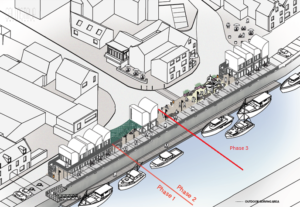 Due to limited availability of funding, combined with volatile market conditions, increasing prices, and the associated commercial risks, Phase 2 will be split into two [Phase 2 and Phase 3].
Phase 2 of the Waterfront Regeneration Project will see the construction of the middle pavilion. We are preparing a funding bid and we'd hope to have secured funding by the end of 2022 if the bid is successful. Construction could potentially commence early 2023*
*dependant on final design detail, build contractor schedule, planning variation approval and building warrants.
The middle pavilion is the smaller of the development with a footprint of 36sqm allowing 30sqm of open ground floor space and two pods on the upper level.
During the construction of Phase 2 the northern most end of the site will be closed off again and used for the construction site and welfare offices.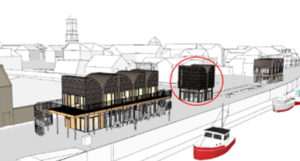 Future Phase:
The final areas of the development, including the north pavilion will be subject to future funding and or private investment. Planning consent is secured for the full site and remains in place.