S.V Cariad and S.V Fyne Girl
!! OPEN TO OFFERS !!
Eyemouth Harbour Trust are seeking to sell the following two vessels, currently stored ashore at Eyemouth Harbour. Both vessels are being 'sold as seen' with no guarantee of general condition or seaworthiness and would be ideal as a restoration project.
In the event of multiple notes of interest, a sealed bid process may be implemented. EHT are under no obligation to accept any offer.
The successful party/parties will be responsible for all aspects of the removal and transportation and / or continued storage of each individual vessel and insurance. Continued storage would be by further discussion with Eyemouth Harbour Trust under the current Berthing Terms & Conditions and payment of appropriate fees.
S.V Cariad
Pandora 22 MK1 GRP 22FT (6.7m) Fixed keel sailing yacht
Beam: 6ft 10" (2.08m) / Draft: 3ft 3" (1.0m)
Date of Build: 1975 (Est)
Valued in the region of £500.00
SOLD AS SEEN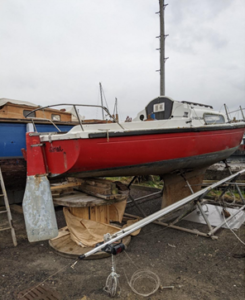 S.V Fyne Girl
VERL 790 GRP 26FT (7.9m) Fixed fin keel sloop
Beam: 2.79m / Draft 1.50m
Date of Build: 1975 (Est)
Valued in the region of £800.00
SOLD AS SEEN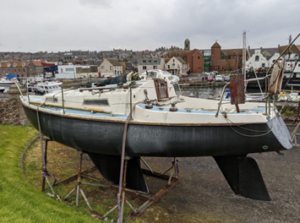 For further information and to arrange a viewing please contact:
Brendan Bates, Harbour Master or the Operations Team on 018907 50223 / 07885 742505
Posted: 27/09/21
Updated: 31/03/22