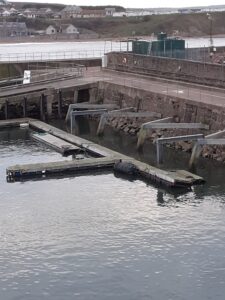 We currently have a couple of sections of 'man-made' pontoon available to any interested parties.
They need time & work spent on them but are in a reasonable condition.
The sections are currently at the north end of Gunsgreen Basin (as pictured) and DO NOT include the section of pontoon that runs alongside the fuel jetty.
Please contact the Harbour Operations team for further information or to arrange a viewing.
Tel: 018907 50223 / Mobile: 07885 742505
Posted: 08/12/20