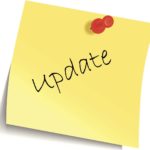 Construction work on the foundation for the new red bridge has had to be temporarily suspended due to further modifications in design of the substructure being required.  This has been as a result of the historical foundations needing a greater than anticipated upgrade.
Eyemouth Harbour Trust fully appreciate that the delay is causing inconvenience for many, however the contractors, Diack and Macaulay Ltd, and their sub-contractors are close to finalising the modified design.  Thereafter construction work will recommence.
The new bridge, once installed, will serve the town for generations to come.  It is worth noting that the replacement bridge, unlike the old bridge which was only for pedestrians, will join up the whole harbour from a commercial point of view, by permitting forklift movements across both sides.
We thank you for your patience.