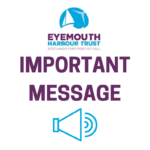 Recently, we have seen a number of incidents of children 'tombstoning' (jumping or diving from a height into water) off the west pier into both the beach side and into the harbour entrance 'canyon'.
This is extremely dangerous, and the children have been cautioned numerous times by the Harbour Master but continue to put themselves at risk.  All incidents have been logged by Eyemouth Harbour Trust and the Police and Coastguard notified.
On occasions children jumped into the canyon when the dredger 'Shearwater' was operating.  Dredging is complex and dangerous work which involves removing silt and sand by mechanical digger.  This can dislodge items such as nets and fishing lines from the seabed creating additional hazards. It also leads to a change in the level of the seabed and water depths.
As a result, dredging works were suspended for safety reasons.
The following Guidance from the Maritime & Coastguard Agency highlights risks of tombstoning:
Water depth alters with the tide, the water may be shallower than it seems
Submerged objects like rocks may not be visible; they can cause serious injury if you jump onto them
The shock of cold water may make it difficult to swim
Strong currents can rapidly sweep people away
Further advice: https://www.gov.uk/government/publications/keeping-safe-at-the-coast-tombstoning
As a precaution, barriers and signs have been erected restricting access to the pier.
We would request your assistance in sharing this information and adhering to safety signs that are put in place around the harbour.
By request of the Harbour Master, Brian Wilson.
Published 11/08/20