Notification of demolition works at Old Fishmarket, Harbour Road, Eyemouth – w/c 18th January 2021 for approx. 6 weeks.
As part of the Old Fishmarket redevelopment project proposed at Eyemouth Harbour, demolition will start on the existing fishmarket structure w/c 18th January 2021.
Local demolition contractor, ED & MA Redpath & Sons, will undertake the works that will involve large plant and equipment.  In preparation for these works, the contractor will be fencing off the area for safety purposes and access will be restricted in the immediate vicinity of the works, including the pontoon.
Demolition works are expected to last 5-6 weeks and are scheduled to be completed by end February, weather and Covid-19 guidance permitting.
Additional car parking is available to the north of Harbour Road towards the Hippodrome & Contented Sole or at the Gunsgreen side with access over the Red Bridge
Road access – road access along the harbour will remain open. Temporary traffic lights may be in operation for part of the time.
Pedestrian access – the public footpath along Harbour Rd will remain unaffected. The area directly along the quayside and surrounding the building will be fenced off.
The public & visitors are urged to take extra care around the demolition area of Harbour Rd and adhere to all safety signs & notices during these works. 
We hope there will be minimal disruption whilst these vital works are carried out and thank you for your understanding and co-operation.
If you have any questions then please contact:
Christine Bell, Business Manager
Tel 018907 52494 businessmanager@eyemouth-harbour.co.uk
Brian Wilson, Harbour Master or Brendan Bates, Deputy Harbour Master
Tel: 018907 50223 / 07885 742505 harbourmaster@eyemouth-harbour.co.uk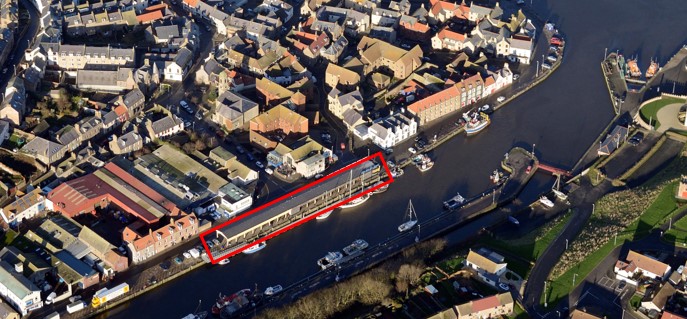 Posted: 14/01/2021