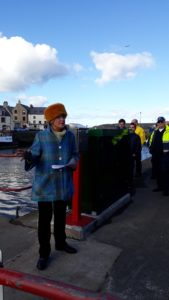 An important pedestrian footbridge (walking & cycling route) in Eyemouth, affectionately known locally as the 'Red Bridge' was officially opened on 3rd March 2020 by Miss Freya Cook, Eyemouth Herring Queen followed by an afternoon tea for funders & stakeholders at Gunsgreen House.
The new single leaf bascule bridge is hydraulically operated with manual back-up to allow full lifting and vessels to pass through the Eye Water to the boatyard slip. With a span of 11m and width of 2m (0.6m wider than the old bridge) allowing for authorised forklift trucks to cross. The parapet is also higher to meet current regulations for cyclists.
Commenting on the project, Christine Bell, Business Manager at Eyemouth Harbour Trust, said: "We are so pleased to bring this project to completion.   The community have shown a lot of support for replacing the bridge and we thank all the residents and local businesses for their patience over these past few months whilst this work was carried out". Lindsay Dougan, Community Investment Manager added "SSE and Clyde Wind Farm Ltd are delighted to support this fantastic project. The new bridge will provide significant benefits for Eyemouth residents and will help increase tourism to the area. The new infrastructure will be vital to support the economic growth of harbour industries."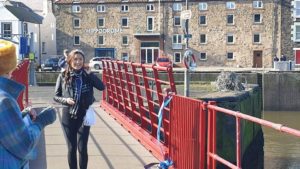 Clyde Wind Farm Ltd (SSE) awarded £84,088 towards the replacement of the bridge and the Harbour Trust secured match funding from Scottish Borders LEADER Local Action Group with a grant of £129,541 towards the project which cost over £225k in total. The balance of project costs has been met by Eyemouth Harbour Trust.
Gary White, Chair of Scottish Borders LEADER commented "The LEADER Programme is delighted to have been able to assist with funding for this very worthwhile project. Not only will the new bridge provide an accessible route improving the connection between both sides of the Eyemouth harbour, it will provide better accessibility for tourism, fishing and processing activities which are mainstays of the local economy."
Patrick Flockhart from Eyemouth Marine Ltd (boatyard) commented, "We are currently in the process of redeveloping and improving the boat yard in order to take it into the 21st century and guaranteeing jobs for the future. The replacing of the bridge and maintaining access through the cut is a vital link to the boatyard which provides services to the overall marine sector, including the fishing community, the tourism sector, the RNLI, work boats and the occasional leisure vessel. They can all need help and services at a drop of a hat, so having a new reliable lifting bridge to give them quick access to the yard is great."
Work commenced in May 2019 with the removal of the old bridge a vital piece of the town's infrastructure, but the project suffered an unforeseen delay when it was identified that the existing abutment needed structural reinforcing. Christine Bell, Business Manager said, "The issue with the composition of the abutment was unfortunate and added to the project being delayed. It was necessary to ensure that the reinforced abutment was fit for purpose now and in future. The design life of the bridge is 120 years and we now have a foundation that will ensure future generations benefit from this important link across the harbour and town."