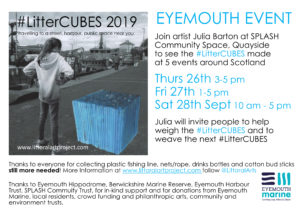 An Art, Science, Environment event highlighting plastic marine litter by artist Julia Barton as part of the Littoral Art Project. Sculptures will go on to be exhibited at Edinburgh Science Festival 2020.
Event Dates:  26th, 27th & 28th September 2019
Location: SPLASH Community Space, Quayside, Harbour Road, Eyemouth
Julia is an experienced environmental artist and campaigner, who mixes art and science to get serious environmental messages across in a fun and engaging way. Julia will be making three #LitterCUBES from plastic drinks bottles, fishing nets/rope and fishing line collected on local beaches and in the harbour. She will be inviting people to help construct the Eyemouth #LitterCUBES in several scheduled workshops and public events over the course of the event.
"I will be asking people to get involved, help me weigh the CUBES to calculate the energy value of each one, to show the loss of finite resources that plastic beach litter represents."
Alongside the Eyemouth #LitterCUBES, she will also be displaying more #LitterCUBES made from beach litter collected in Ullapool, Dunbar, Shetland and Arbroath.
Julia will be involved with the Eyemouth/Berwickshire local Marine Conservation Society (MCS) Big Beach Clean on 21 September 2019, collecting plastic drinks bottles, fishing net and anglers fishing line which will go towards completing the Eyemouth #LitterCUBES.
EVENTS ARE FREE AND OPEN TO ALL
Thurs 26th Sept : 10- 1pm School Workshops. 3-5pm Public Event
Friday 27th Sept:  10-2pm  School Workshops.  2-5pm  Public Event
Saturday 28th Sept : 10-5 pm Public Event
The project is gratefully supported locally by Eyemouth Harbour Trust, Eyemouth Hippodrome, Voluntary Marine Reserve, with donations from Eyemouth Marine, local residents, crowd funding and philanthropic arts, community and environment trusts.