Since the pay and display parking fees were suspended at the time of the relocation of the dive shore access road in November 2020, EHT have spent the past few months exploring 'cashless' systems as opposed to the traditional 'pay and display' systems, i.e. parking apps which enable the user to pay for the parking with ease and convenience using a smartphone and without need to display a ticket.
As such, the 'Just Park' parking cashless App based system will be in force at this car park from Friday 13th August 2021.   Users can easily download the app or sign up via the website in a few simple steps.  This account can then be used to pay for all future parking sessions. Alternatively, users can call or text 'Just Park' to pay for parking (details of how to do this will be displayed on signage erected on site).
Previously, a fixed daily fee applied but in recognition of the fact that not everyone wishes to park all day, incremental parking charges will apply as follows:
Up to 1 Hour – £1.00
1-2 Hours – £2.00
2-3 Hours – £3.00
3-4 Hours – £4.00
5 – 8 Hours – £5.00
8 – 24 Hours – £10.00 (intended to capture overnight parking)
24 Hours – £15.00 (intended to capture overnight parking)
3% transaction fee by merchant bank payment processor
SMS Reminders 10p per SMS  (Optional) – users can opt in/opt out of receiving text reminders when your parking session is close to expiry.
Blue badge holders will be exempt from parking charges.  Badges must be displayed clearly to avoid risk of incurring a penalty.
In order to manage the space more effectively than it previously had been, the area will be monitored and if necessary, a Parking Charge Notice (PCN) may be issued for non-payment of parking charges.   We wish users to continue to enjoy using the facility in the knowledge that the parking fee payable makes an important contribution to the maintenance of the facility as well as future enhancements of the area.  We're keen to hear from users in order to better understand what future enhancements would be beneficial for the site. e.g. EV charging pods, electric hook-up, improved waste disposal facilities, etc.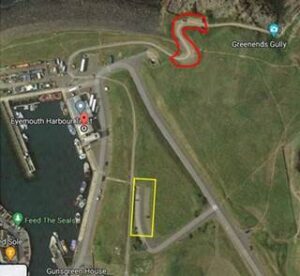 We recognise that the car park is used by local residents for dog walking, etc. and that many will wish to continue to enjoy the area without incurring parking fees.  As such, we would recommend using the free, public car park located nearby to the south of the dive shore car park (behind Gunsgreen Quay), as shown below in yellow.
Posted: 05/08/2021