It has been one year this week since the Just Park app went live on the dive shore access car park at Eyemouth now and we wanted to give you an update.
Since reinstating the parking last year (August 2021) , the car park has had 271 paid transactions, and we thank users of the car park for their contributions.
Sadly, there are other users who don't pay.
In terms of enforcement, we've taken a 'softer' approach in the first year to let the scheme settle in and allow time for folk to get used to it.   However, we have found several vehicles parked without payment on many occasions when we have carried out checks.  Therefore, to manage the space more effectively, and to give it a reasonable chance of generating sufficient revenue to be able to contribute towards better facilities in future, we will be taking the reluctant step of enforcing the parking charges with issue of Parking Charge Notices as outlined in Stakeholder Update circulated on 5th August 2021 [repeated here for ease of reference].
 To manage the space more effectively than it previously had been, the area will be monitored and if necessary, a Parking Charge Notice (PCN) of £60.00 may be issued for non-payment of parking charges.   We wish users to continue to enjoy using the facility in the knowledge that the parking fee payable makes an important contribution to the maintenance of the facility as well as future enhancements of the area.  We're keen to hear from users to better understand what future enhancements would be beneficial for the site. e.g., EV charging pods, electric hook-up, improved waste disposal facilities, etc. 
We recognise that the car park is used by local residents for dog walking, etc. and that many will wish to continue to enjoy the area without incurring parking fees.  As such, we would recommend using the free, public car park located nearby to the south of the dive shore car park (SBC's Harbour View Car Park behind Gunsgreen Quay), as shown below in yellow.
Please note blue badge holders are exempt from charges if the badge is clearly displayed in the vehicle windscreen.
We have erected enforcement notice signage alongside the JustPark signs but will refrain from issuing any PCNs until after 15th August 2022 as the signs have just gone up.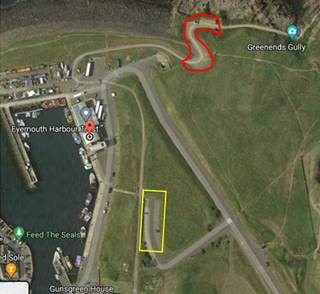 Posted: 11/08/2022