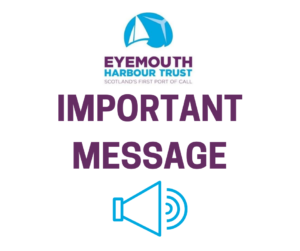 Notification of the decommissioning of the current fuel facility, served from Smeaton's Yard to the fuel jetty
The new fuel facility on Gunsgreen Quay will be commissioned w/c Monday 11th January, fully operational by Friday 15th January.
The existing fuel facility (served from Smeaton's Yard and the 'Fuel' Jetty) will be decommissioned between Tuesday 12th January and Wednesday 13th January.
There will be a time between Tuesday 12th and Thursday 14th when no fuel is available at all.
ANY BOATS THAT NEED TO REFUEL SHOULD DO SO BY 08:00 HOURS ON TUESDAY 12TH JANUARY.
WE CANNOT GUARANTEE FUEL SUPPLY AFTER THIS TIME UNTIL THE NEW SYSTEM IS FULLY OPERATIONAL.
Please note that the existing fuel keys are compatible with the new system so will automatically transfer over.
We hope there will be minimal disruption whilst these vital works are carried out and we apologise for any inconvenience caused.  Thank you for your co-operation.
If you have any questions, please contact:
Brian Wilson, Harbour Master or Brendan Bates, Deputy Harbour Master
Tel: 018907 50223 / 07885 742505 harbourmaster@eyemouth-harbour.co.uk
Christine Bell, Business Manager
Tel 018907 52494 businessmanager@eyemouth-harbour.co.uk
Posted: 07/01/2021