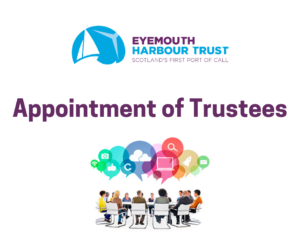 Eyemouth Harbour is a trust port managed by a voluntary Board of Trustees with a wide range of skills and expertise.   Eyemouth Harbour Trust is seeking up to five new trustees to join the existing board of committed trustees. We are looking for people who can bring a range of skills to help Eyemouth Harbour develop and thrive. We are particularly keen that the board should better reflect the diversity of people in our community.   We currently have 6 trustees including our Chair and Vice Chair.
The Board is required to have wide and relevant experience, and candidates will therefore be expected to have skills and current or recent experience in any one of the following areas of harbour/maritime management including safety and environmental, fishing industry, civil engineering, financial management, Scots law, local community interests.  The ability to work well within a committee, to grasp and deal with complex issues and to express your views clearly in a respectful manner will be necessary.  Residence within a reasonable distance of Eyemouth and familiarity with local issues is desirable.  Appointments will be usually for a term of three years.
The Trust, established in 1797 is responsible for the maintenance, preservation, and development of the harbour, whilst creating an important socio-economic legacy in east Berwickshire.  As a trust port, while we operate on broadly commercial lines, competing with private and local authority ports as well as other trust ports, we are essentially a not-for-profit organisation, meaning that all revenue is ploughed back into the harbour's facilities and services.
Trustees are not remunerated and would be required to attend monthly meetings (currently being held virtually) and otherwise be prepared to devote up to two days per month to the work of the Trust.  Duties are similar to those of a company director and will include responsibility for the proper exercise of the statutory functions of the Board.  Trustees play a vital role in our organisation, giving strategic direction, exercising good governance, as well as bringing valuable skills to specific projects.  The role presents an opportunity to develop your experience in a non-executive board level role in a dynamic and interesting environment.
For an application pack and further information, please contact:
Mrs Christine Bell, Business Manager
Eyemouth Harbour Trust, Gunsgreen Basin, Eyemouth, TD14 5SD
Tel: 018907 52494 / E-mail: businessmanager@eyemouth-harbour.co.uk
Closing date for applications – noon on Monday 1st February 2021
Completed applications can be emailed or posted.
Posted: 11/01/2021