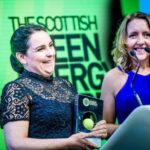 Our own Christine Bell, Business Manager here at Eyemouth Harbour Trust attended the Scottish Green Energy Awards last Thursday (December 6th) in Edinburgh.
The Awards saw winners in 11 categories receive trophies recognising their work in the sector, which employs 16,000 people.
Christine, jointly with Lesley Black from CS Wind UK, accepted the 'Champion of Renewables' award on behalf of the Neart na Gaoithe Coalition. Eyemouth Harbour Trust have been members since the coalition's inception last year. The coalition is a growing group of over 70 organisations that have come together to support NnG Offshore wind farm, a £2 billion investment in Scotland's energy infrastructure.