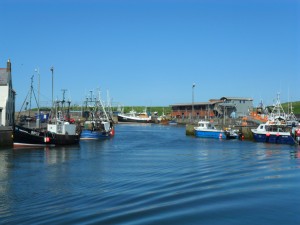 Strategically important harbour at Eyemouth announces reduction in landing dues for all vessels.
Following consultation with the board of Eyemouth Harbour Trust, Business Manager, Christine Bell announced on 13th July 2015 that, "With immediate effect we are pleased to offer a reduced rate of 2.5% landing dues to all vessels landing in the harbour, as part of our ongoing commitment to supporting and working with the fleet."
This new strategy reflects the not for profit organisation's commitment to continued viability of the UK fishing industry, making their pricing structure easier to understand for the customer and increasing their ability to compete with other ports and harbours in the area.
Located on the southeast coast of Scotland, Eyemouth Harbour offers a comprehensive range of services and facilities nearby, including an ice plant, fuel and water available 24/7, a fully functioning boat yard as well as chandlers, engineers and fish processors.
More information about the new monthly rates and six month composite rates are available on request from the Harbour Trust office:
Tel: 018907 52494
E-mail: office@eyemouth-harbour.co.uk


Posted: 14/07/2015