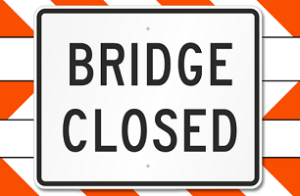 Following a successful open tendering process via Public Contracts Scotland and OJEU public procurement portals, Eyemouth Harbour Trust have awarded the Design and Build Contract to Contractor, Diack and Macaulay Ltd, to deliver the new bridge project.
Work will now begin on designing the new bridge, with site investigation surveys commencing next week (w/c 27th August).  To allow access for core samples to be taken from the existing bridge abutment under the bridge, the bridge will be temporarily closed between 9.30am and 2.30pm (2.5 hours either side of Low Water), on Friday 31st August 2018.   We appreciate this closure will be inconvenient for many, however, the surveys are essential at this early stage of the project.
Project timescales will be firmed up over coming weeks, however, current thinking is that we would expect the new bridge to be installed February/March 2019.
Stakeholder meetings will be held in due course.  These meetings will give you the opportunity to discuss the project with EHT and the contractors.
The full temporary closure notice can be viewed here