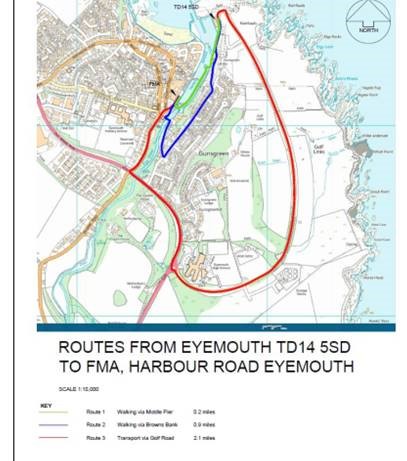 Red Bridge Replacement Project – Schedule of Works affecting pedestrian access
Following completion of the design phase of the the replacement of the footbridge linking the middle pier and Gunsgreen (locally known as the Red Bridge) works to replace the bridge are set to commence as detailed below.  Glasgow based, Diack and Macaulay Ltd are the Principal Contractors for the project.
Monday 18th – Sunday 31st March: contractor site set up and preparatory ground works for power supply for new bridge.  Please note installation of middle pier railings will also take place during these dates.  Pedestrian access will be open during this phase.
Monday 1st April – Monday 13th May: removal of existing bridge, substructure works, new bridge works, installation and commissioning of new bridge.  There will be no pedestrian access during this phase.
A signed diversion will be put in place.  See blue route on the map, which will take pedestrians along in front of Dundee House, across the silver bridge, along Browns Bank, The Avenue to bring them outside Gunsgreen House behind the Lifeboat Station.
The schedule may be subject to change as construction works progress so please keep an eye on our website and social media channels for updates.
If you have any queries regarding the project, please contact Eyemouth Harbour Trust on 018907 52494 or email businessmanager@eyemouth-harbour.co.uk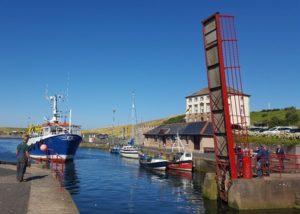 Date: 18/3/19