Eyemouth Harbour was the location for a field trip  of FARNET EU delegates last Thursday (10th Dec).  The visit was part of the Seminar and to demonstrate the types of projects that the Scottish Borders Fisheries Local Action Group (FLAG) delivered through the EFF Axis 4 funding.  The delegates heard presentations from Hugh Williams, the FLAG Facilitator for Scottish Borders region, Eyemouth Harbour Trust's Christine Bell and The Hippodrome's Arts Centre's Ian Tod.  Hugh gave a presentation on how the Scottish Borders FLAG worked and the types of projects that were delivered through the previous programme.
In the last programme the Scottish Borders FLAG supported 12 projects in East Berwickshire with grant funding of £627k against total project values of £1.3m.  The new FLAG for EU Maritime Fisheries Fund 2014 – 2020 will encompass a wider area, and the Borders has joined forces with fishing communities in East Lothian and Fife.  Hugh Williams added "The new FLAG programme will be launched early in 2016 and I am looking forward to working on new project ideas to help develop and diversify the marine economy in the Forth and Borders areas".
Christine talked about two projects that the Harbour Trust have delivered through EFF Axis 4, the aim of both being to diversify marine use of the harbour so as to lessen dependency on fishing activity and create a sustainable future for the harbour and local economy in this area.
The Coastal Tourism Infrastructure Development Project which installed a new pontoon, with aim of facilitating growth in sail, dive and cruise tourism.
Offshore Renewables Marketing Project which has aimed to raise the profile of the port and Eyemouth in the emerging offshore wind sector, particularly to attract business from the potential developments in the Firth of Forth.
Christine commented that "It was interesting and inspiring to speak with other members of the FARNET community and hear about their projects as well as have the opportunity to highlight some of the Eyemouth projects funded through EFF Axis 4."
Ian gave a presentation on the refurbishment of the former Fishermen's' Mission in Eyemouth, now an Arts Centre, which offers a wide range of high quality exhibitions and performances from artists all over the world.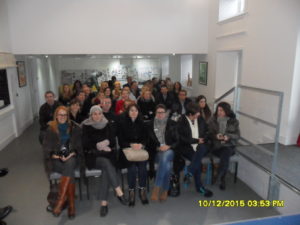 FARNET is the community of people implementing Community-Led Local Development (CLLD) under the European Maritime and Fisheries Fund (EMFF). This network brings together Fisheries Local Action Groups (FLAGs), managing authorities, citizens and experts from across the EU.